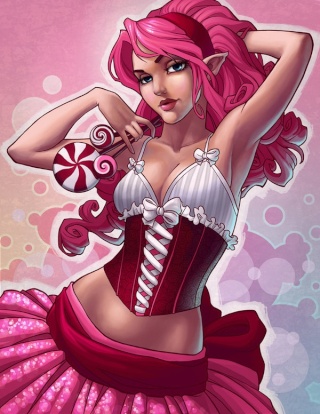 ≈[Amie Candy Night]≈
_╬_First Name: Amie_╬_Middle Name:
Candy
_╬_Last Name: Night_╬_Sexual Orientation: Straight._╬_Student or Teacher?: Student at Nari_╬_Year: Last year._░_Looks:
• Hair : Pink, curly, and puffy.
• Eyes : Blue.
• Skin : Tan. No marks
• Height : 90
• Weight : 5'4
• Style Of Clothing : She wears tight, skimpy clothing, and is always found in low cut shirts, or dresses. Short skirts, or dresses.
• Other : None.
_░_Personality:
• Personality : Amie is very different when it comes to likes, and dislikes. She likes people who are very mean, and likes to hurt/kill people. But are nice to her, and her pet. She loves to see people hurt, and in pain. She is very... Sick and madicsit. Although there is a solf side to her. A side that doesn't come out very much, but it is there.
_¥_Family: Unknown._¥_Background:
Amie was born in a manor, of one of the riches families around, she grew up as a princess, and loved every moment of it. She had pretty dresses that puffed out every where. She had the boy of her dreams, her life seemed to be perfect. But, on her 18'th birthday, the date she was to be married, someone came to her room in the middle of the night."Who are you!" She screamed, but it had been to late for that, she felt a pain in her neck, and everything went black.
Amie woke up in a dark room, with no windows, or light of any kind, she found herself very, very hungry. But there was a door, but she couldn't open it, every time she tried, it burned her hand."What the hell is going on!" She screamed, and her someone coming to where she was.
"Hello." A voice said, as a man appeared, he had bright blue eyes, and dark black hair."I guess you want to know where you are, and what happened."He said,"to start off, your not a part of their family."He seemed to chuckle as he went on."I tock you away from them, and brought you back here, as long as you don't believe what you really are now, you wont be able to thouch that door nob. So, good luck."He laughed, and dissapeared.
Amie first didn't want to believe it, but then though about it, they always accted weird around her, never really treated her like a family member... She soon relised that she wasn't a Night, and was able to open the door. She ran away, leaving everything behind.
After a few years, Amie started moving around, and fond herself here...